Multi Protein
Straightening System
Multi Protein Straightening System is toxin free, healthy, long-lasting and can straighten all hair types and textures. See for yourself why participating salons can't stop raving about ProAddiction.
CREATE ACCOUNT
FIRST TIME PURCHASES RECEIVE COMPLIMENTARY TRAINING!
Buy a Full Experience Bundle and save!
Client Testimonials
As a hairstylist with 10 years of experience, I am very satisfied to work with ProAddiction. Not only because it's a healthier alternative to keratin, there is no smell, no irritation on eyes or nose. But because there is always 100% result, happy clients that always come back and bring their friends and family. I also want to say thank you to the ProAddiction team for making this product unique and rare, and for making sure every hairstylists follows the correct procedure when working with ProAddiction.
Charm Beauty Lounge, Boca Raton, FL
In my practice , PROADDICTION is the ONLY smoothing treatment  that I offer .. Its formulation is SUPERIOR !!!! , It is SAFE and HEALTHY  for both  stylists and clients of all ages .  It contains  the most nutritive  and replenishing ingredients of the highest quality and transform the most over processed hair - and the results are magnificent!  The staff and the support  they offer are most attentive and  make themselves available to their costumers. I am grateful for everything PROADDICTION!
Long Island, NY
Proaddiction has changed my life, Both as a hairdresser and a client! My hair has never been healthier, stronger and more manageable. This product completely revitalized my dry hair and turned it into lustrous long healthy locks! The only downfall about this product would be that once you start and feel the difference in your hair, you will never want to stop.  Its truly an addiction!
Locks By Lisa, Staten Island, NY
As a salon owner and stylist I stand by my mission, which is to achieve every girls dream of feeling not only beautiful but also confident when they walk out of my salon, and doing so with products that are safe for myself to use and my clients to be around. ProAddiction is a revolutionary product, using ProAddiction these past 4.5 years I have to say I haven't used anything like it before! I feel so confident using this in my salon knowing that it's made with safe ingredients, No paraben and no formaldehyde. I've personally used this product on myself and even on my 2 daughters, one was as young as 9 at the time. This is magic in a bottle!
Fresh Meadows, NY
I was introduced to ProAddiction Smoothing Treatment exactly 4 years ago. I won't make a long and boring testimonial, I will try my best in short! I absolutely LOVE this treatment! I am a colorist for over 20 years! Beauty of this treatment is it can satisfy absolutely every type of hair....including thin and damaged hair! I haven't found one treatment that can come close to ProAddiction results!! ProAddiction completely changed my field....meaning...I only work with ProAddiction and absolutely nothing else!!! So Thankful to this Product!!!
New York, NY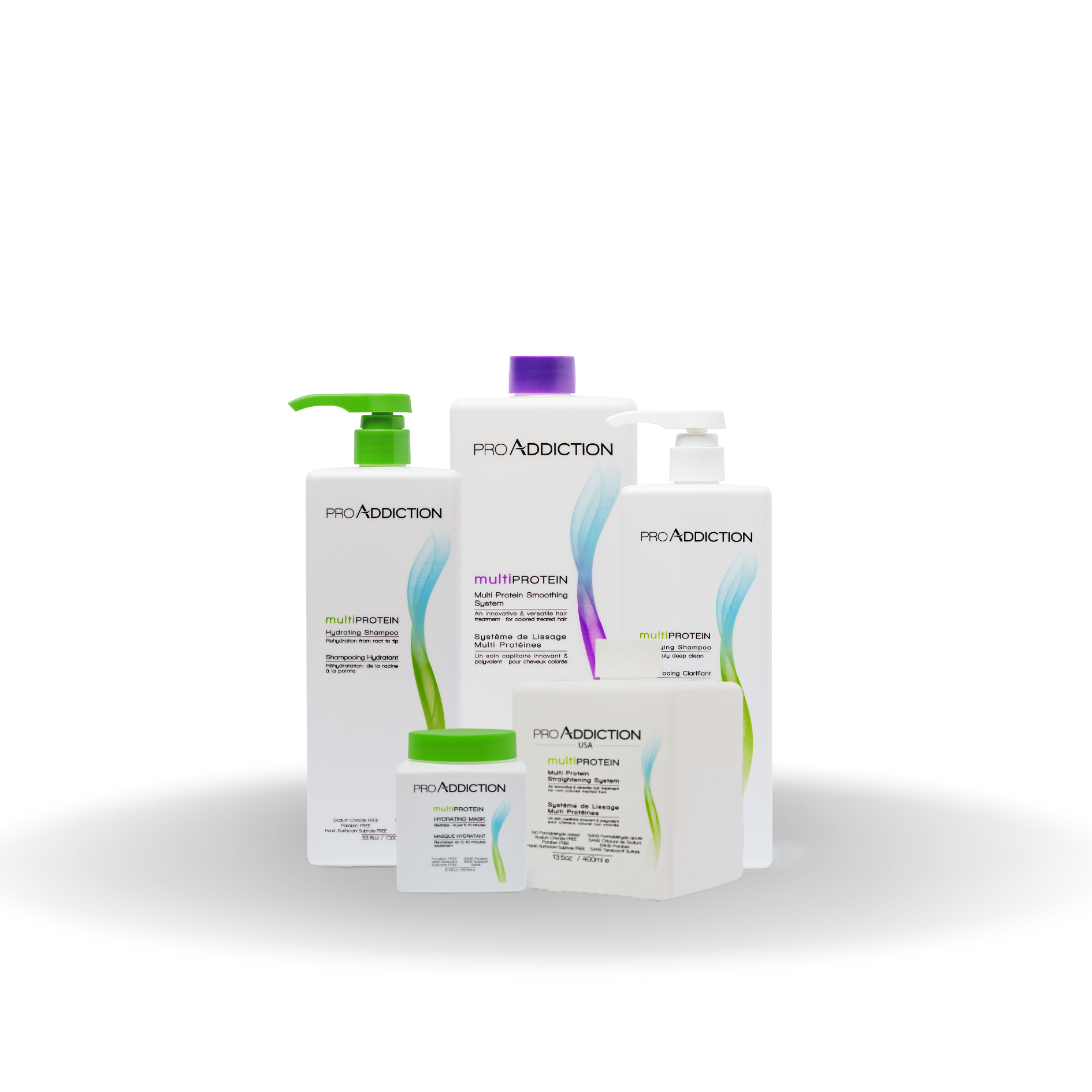 Full Experience Bundle

The ProAddiction Full experience bundle is everything a hair professional needs to offer clients the ProAddiction multi-protein hair smoothing treatment.